The Road to Unfreedom: Russia, Europe, America
By Timothy Snyder
Tim Duggan Books, 2018
ISBN: 9780525574460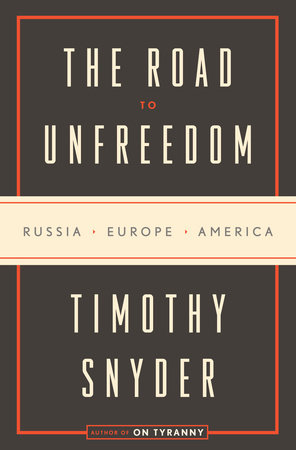 Timothy Snyder's book could hardly be more timely, what with the Skripals' poisoning and the allied military strike in Syria, following the use of chemical weapons.
Fallout from that military strike remains extremely uncertain at the time of writing, but this book, as you may have guessed, is all about Russia. It dissects the autocratic, some might say fascist, kleptocracy it has become under Putin. It traces the malign encroachment on the integrity of the governments and institutions of Europe – cyber-attacks, interference in national elections and the like. It recounts the violent annexation of Crimea and the cruel invasion of Ukraine. And finally, there is Russia's sly and sinister tampering in the American election that saw Donald trump emerge as victor.
In telling these and other histories, Snyder challenges two attitudes that many hold about the modern world: a belief that progress (or an imagined, ideal future) will happen all by itself: he calls this 'the politics of inevitability'; and a fatalism that the same old shit will happen, whatever: 'the politics of eternity', that's this one. I wonder, though, whether these two attitudes are not one and the same (indifference, passivity), depending on whether you're one of life's winners or one of life's losers. Anyway, he wants to replace these attitudes with engagement and activism based on historical understanding and respect for facts. His heroes are reporters, those brave souls who get out there on the ground and place themselves in harm's way. His villains are media columnists, opinion-formers like Seamus Milne who follow the Russia Today line. (In The Guardian, once, facts were sacred.) Truth, that's the prime value.
There is a lot of meat in this substantial though wordy book, unlike his previous On Tyranny, which was basically a Facebook post with a little padding (at least it didn't have an extreme excess of padding, like Jordan Peterson's 12 Rules for Life book: as soon as this genre dies out, the better). Here, we are given vivid portraits of Alexander Dugin and Alexander Prokhanov and other members of the Izborsk Club (the Metaphysical Club it ain't), a coterie of fruitcakes and nutcases and grotesque personages that have a shot-light bulb, Eurasian, pan-Russian ideology that belongs in another century. One originator of this ideology was Lev Gumilyov, the son of Anna Akhmatova and the subject of her great poem Requiem. Snyder calls all of these fellows fascists, sometimes 'schizofascists' (as I said, he's a bit wordy), and he is not wrong. They come across like characters who wouldn't be out of place in a James Ellroy novel, call it Russian Tabloid. But, unfortunately for us and for Russia, they have real influence on Putin and those around him.
One of the most compelling parts of the book describes the shooting down of the MH17, a reckless Russian military strike where 298 civilians, most of them European citizens, died. Snyder outlines the steps that the Russians took to obscure their guilt. He calls one stratagem 'implausible deniability': you lie and lie ('It wasn't me, Guv'), while at the same time putting out multiple versions (often contradictory) of the same event, even though you don't really expect people to believe you. The purpose is to make the truth, the factual account of what actually happened, simply one version among many. To degrade truth, to divest the facts of their veridicality. Sound familiar? After recounting and placing side by side the diverse Russian explanations of the destruction of the MH17, Snyder concludes that 'the fictional world thus constructed would be impossible , since its various elements could not coexist.' It has come to this: in Putin's Russia, Daniil Kharms is a realist.
What is the nature of Putin's game? On my understanding, Snyder's view is something like this: Russia cannot get better or stronger, or Putin cannot or doesn't want to improve the lot of its people. (Think of Putin's Russia as Mugabe's Zimbabwe: a kleptocracy.) Russia is unwilling to subordinate itself to the European Union, for example, like other Eastern European countries have done. So the policy then becomes to weaken other countries, because they have what it cannot have. By and large, these other countries are liberal democracies: the member states of the European Union and America. Hence Putin's support for the Far Right in Germany, France and Italy. His support for Trump in the American election. It is not a grown-up strategy, and it is hardly sustainable without conflict of some sort.
There are thought-provoking insights scattered throughout the book. Snyder's remark that hybrid war is 'war plus' not ,as many assume, 'war minus' hit the mark. Likewise, his statement that China is Russia's real geopolitical rival (perhaps particularly on Russia's Far East?) and that Russia's Achilles' Heel is the lack of a succession principle: who will follow Putin? And how will this happen, since Russia is not a democracy? These all made sense. From a British perspective, his diagnosis that the nation-state cannot survive long on its own is troubling, post-Brexit. We are used to thinking of Britain as a nation state – that is what our politicians tell us – but really we are a former Empire. Look at how ungainly Britain is – e.g., sovereign territories in Northern Ireland, the Falklands and Gibraltar – these are the legacy of Empire.
Finally, and also from a British perspective, it is interesting to note that Seamus Milne, now Labour's strategy and communications honcho, has links to Putin's Russia. In this, he stands alongside Nick Griffin, former leader of the BNP: not the kind of fellow traveller you'd like to keep company with. These links have hardly been explored in the mainstream media, but they perhaps explain why his puppet (or should that be muppet?), that Jeremy Corbin fellow, was so lukewarm when came to holding Russia accountable for the Skripal poisonings. Syria, Russia's ally, also got an easy ride despite the use of chemical weapons against civilians. Was Corbyn towing the party line as laid down by Milne and Moscow? You can read more about Seamus Milne, Nick Griffin and Putin's other useful idiots in Britain in a Henry Jackson Society report here.
The Road to Unfreedom is a compelling work of contemporary history, though whether Putin is an actual danger to the West, or simply a pest and mischief-maker, remains to be seen. The publisher's description of the book is here.