Klimt / Schiele
Drawings from the Albertina Museum, Vienna
Royal Academy of Arts, London
4 November 2018 – 3 February 2019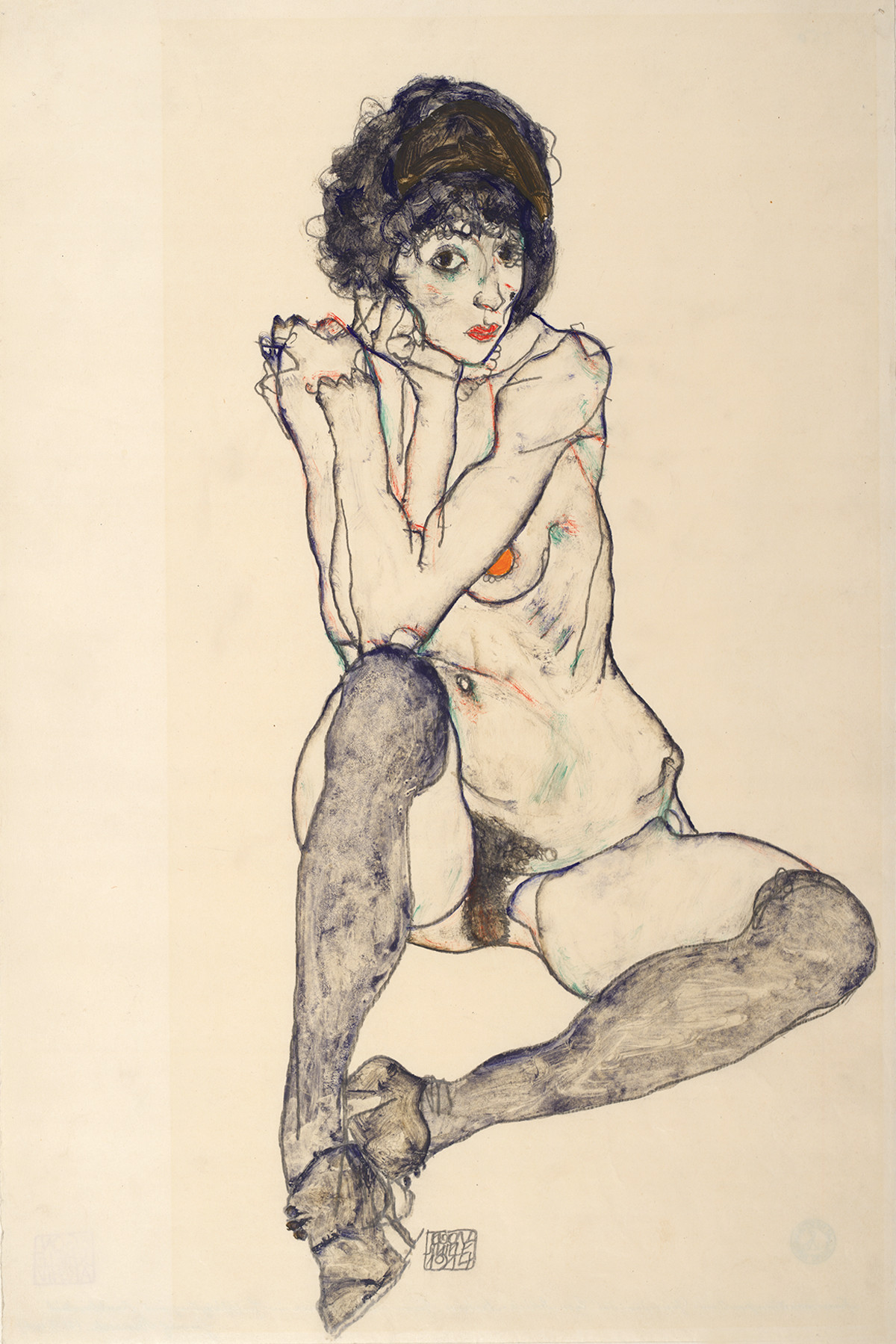 In this impressively staged exhibition we clearly see how Egon Schiele fell under the spell of Gustav Klimt – not surprisingly, perhaps, since when Schiele was a student Klimt was the alpha artist bar none, and many naturally emulated him – but in time became his own man.
Mind, Schiele always retained a supreme respect for Klimt. There is the marvellous Secession poster (included here, thankfully) that Schiele made the year after Klimt's death: Schiele and the rest of the artists sat around a table, an empty chair marking Klimt's absence.
The artists' contrasting approach to drawing is also evident here, and is worth remarking upon. Consider, first, that Schiele's drawings are almost always finished, polished works of art (in most cases, they have been coloured in), whereas Klimt's drawings are usually (though not always) preparatory studies for paintings, frescoes and the like. Here we see the preliminary sketches for his seminal Beethoven Frieze. Klimt didn't apparently see drawings, in and of themselves, to be a primary medium for his art.
Second, consider another curious contrast between the two men. Klimt, whether through reticence or because his energies were deployed elsewhere, never made a self-portrait in all his days. Whilst Schiele played with the genre of the self-portrait in manifold ways (his self-portrait masturbating being perhaps the most extreme or most daring example; it is not included here), and it crops up often in his drawings. Even in the era of the selfie stick, Schiele takes some beating in this regard. Surveying the prodigious profusion of self-portraits ('Me, Me, Me!'), Schiele manages to make even Durer look like a wilting wallflower.
In the area of the erotic, there is a marked difference too. Klimt's women are desirable creatures. They can be elegant and lovely (as in the society portraits), or dreamy, playful kittens (think Degas) when the artist has been commissioned to be deliberately explicit. Klimt's explicitly erotic work – I am thinking in particular of the drawings he made for Lucian's Dialogues of the Courtesans – would count as little more than classy, soft porn had his phenomenal talent not transformed them into art. By contrast, Schiele's women cannot help looking corrupt and diseased, ill-limbed harbingers of death. You are not tempted.
Then there are the drawings Schiele made when he was arrested and spent some time in prison: Klimt did not have this experience. Safely ensconced in his studio in Vienna, his life was never at risk in quite the same way. He at times faced scandal, it is true, but his social existence was never really threatened.
This wonderful exhibition is well worth a walk through or two. And your journey will inevitably shadow Schiele's own: from a Klimt-derived, sunny Jugendstil to a gritty, benighted Expressionism.
Klimt / Schiele: Drawings from the Albertina Museum, Vienna is showing at the Royal Academy of Arts until 3 February 2019. Details here.